Our Collections
Each of our collections is unique in meaning, vision, and purpose.
Compassion
The healing power of compassion is lauded and celebrated in this fun and vibrant doodle. This image came to life in 2018 as I sat by my mothers side in a rehabilitation facility where she was recovering from a traumatic injury. Created with lots of pinks (the color symbolic of compassion), this doodle evolved into an ode to my mom who is the compassionate embodiment of being.
Shop Compassion Collection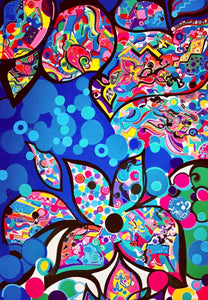 Love
This image was doodled in 2020 at the height of the pandemic and the protests for racial equity and justice. I incorporated the colors of the rainbow of love to remind us that with self-love and love for others all things are possible!  Give and receive love daily! We're all in this together.
Shop Love Collection
Authenticity
The inspiration for this image came from a dear friend who embodies authenticity in everything she does!  Using her favorite colors, the collection came to life. The hues of blues and greens with subtle tones of gold represent the colors of nature (earth, sky, and water) and are as "down to earth" as can be. This doodle celebrates our humanity in its most unvarnished state of being. We are all "imperfectly perfect" just as we are in any given moment. We strive to be real, not perfect!
Shop Authenticity Collection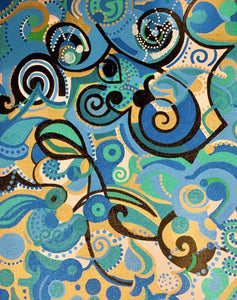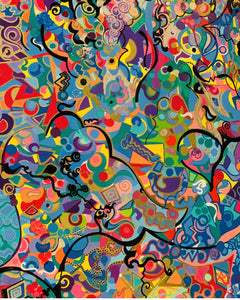 Integrity
Integrity is a hallmark of character, marked by honesty and moral principle. A healthy lifestyle cannot be successfully achieved and sustained without integrity. This doodle was created during a time of deep personal reflection and introspection. As I journeyed inward, the colors flowed in process allowing me to examine my own moral fiber to curate my best life.
Shop Integrity Collection
Responsibility
Created in 2019 as a custom design for a special education teacher I worked with who taught me so much about this journey we call life. Black, gold and silver tones represent luxe and are used here as a reminder to always be helpful to those less fortunate. It is our fundamental and shared responsibility to help each other as we take steps to make the world a better and kinder place.
Shop Responsibility Collection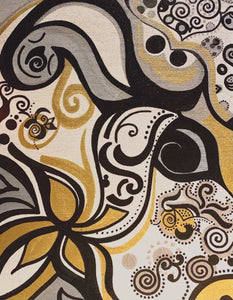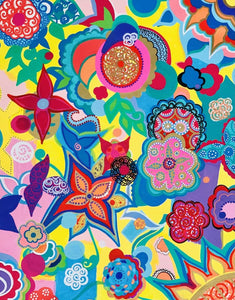 Empathy
Spring 2021 is the inspiration behind the Empathy collection. Flowers blooming, colors flourishing, signs of life renewed. These multi-colored abstract florals reflect the journey into mindfulness. We share a message of hope and inspiration through connecting with others that it is never too late to actualize a dream and make it real! The flowers are symbolic of the cycle and circle of life- infinite and eternal in all its beauty and full of endless possibilities!
Shop Empathy Collection